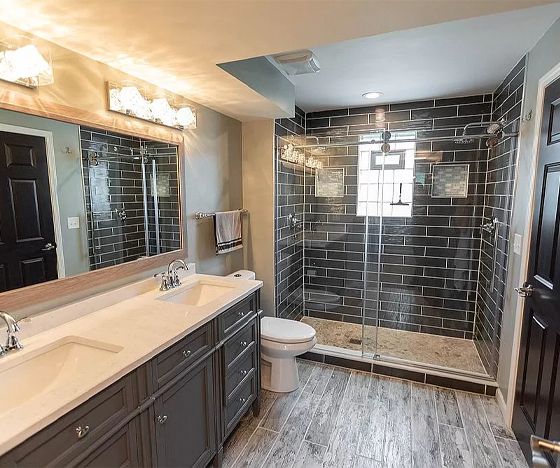 Pamper Yourself With An Upgraded shower
Everyone deserves a little pampering now and then. Whether it's a luxurious afternoon at the spa or simply taking a long, hot shower at the end of a long day, there's something about treating yourself that just feels good.
And if you're looking for ways to upgrade your self-care routine, why not start with your shower?
At ADM, we believe that your bathroom should be a haven of relaxation. That's why we offer an extensive selection of high-end shower products, from rain shower heads to sleek body sprays.
We can help you create a custom shower experience that will leave you feeling refreshed and rejuvenated.
Gift yourself and upgrade your shower today. You deserve it!
Here are some of the most popular Bathroom upgrades that homeowners like you are asking for:
Picture yourself waking up each day, feeling refreshed and excited to start your day.
You walk into your beautiful bathroom and are enveloped in the sleek, timeless design. You no longer feel stressed when you're in your bathroom, but instead you feel motivated to take on each day.
This can be your reality with a bathroom remodel from our experienced team. We'll work with you to create a space that is both beautiful and functional, one that you'll love getting ready in each morning.
Call us today to get started on creating your perfect bathroom.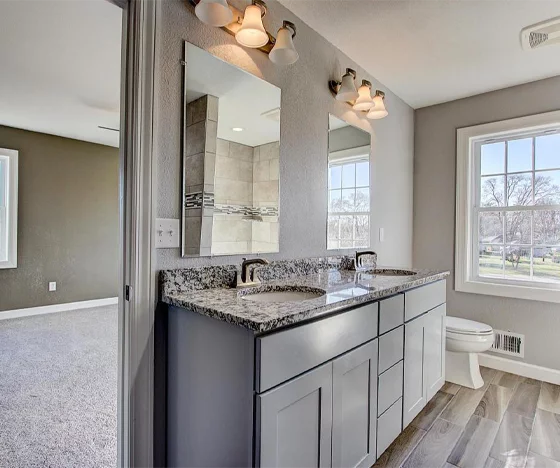 Getting your home remodeled should be a simple and exciting experience, which is why we have crafted a process that makes remodeling a breeze,
Fill us in on all of your project details. We want to know all about the project you have in mind and what your vision is for your new space.
We work our magic to make your home renovation ideas come to life. You'll be back to your now improved and relaxed daily routine in no time.
Now you and your loved ones can all enjoy using your brand new home! Host dinners, relax in your new tub, and love how your home reflects your style.
Bathroom Remodeling Pricing
Your home is your biggest investment, and we'll treat it with the proper care and attention during your remodeling project.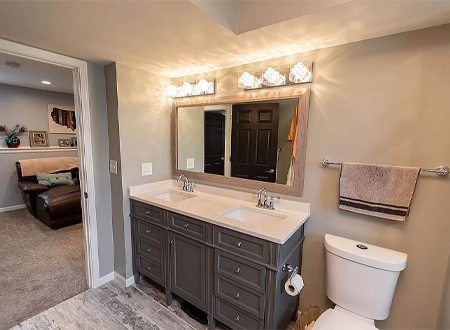 Includes flooring, new tub surround, stock vanity, new tile, toilet, and upgraded fixtures.
Average Bathroom Remodel*
Includes upgraded flooring, upgraded tub surround, dual vanity, toilet, upgraded tile, and new fixtures.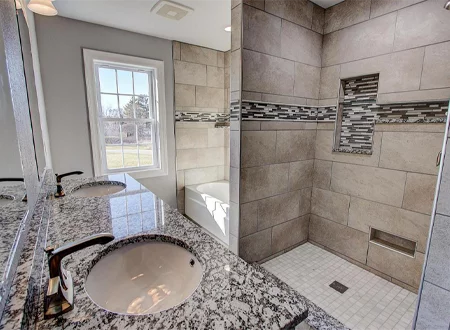 High-End Bathroom Remodel*
Includes premium flooring and tile, upgrade tub surround or semi-frameless shower, new vanities, toilet, and premium fixtures.
*Prices are averages and may change depending on the size of your bathroom and your choice of materials, finishes, and overall design. You'll receive an exact quote for your unique bathroom after the consultation.
Here's What Our Customers Say…
We love seeing homeowners react to their new space - it's what motivates us. Read through some of our reviews to get a better idea of how we have helped our homeowners accomplish their home renovation goals.
Elegance. Extravagance. Exquisiteness.